Get onboard with Oxygen & let us guide you through the journey
Oxygen is an IT services provider, specialized in the support of the whole digital transition process of companies. With 30 years of experience and 25 experts, Oxygen implements the necessary technological pillars to support your company's and employees' performances.
Your company must be able to peacefully fly in the air to quickly and efficiently reach its destination. We support you throughout the journey, predicting the weather forecast, ensuring the reliability of the engine, adapting the power of the reactors, indicating the best route to take in the cloud universe and providing you with efficient navigation tools in the cockpit, while taking care of your passengers. We enhance your travel, making it more comfortable.
Does your IT infrastructure become obsolete? Do you need future-proof solutions which allow you to work as a digital nomad? Are you wasting time to recover lost data and to manage IT issues? Are you sure to be up-to-date with your security? Did you decide to undertake the digital transition? Whatever the reasons, Oxygen is a reliable proximity partner and enjoys to support you throughout the journey.
Oxygen services:
Consulting & strategy, support, Governance
We are hitting this on several levels :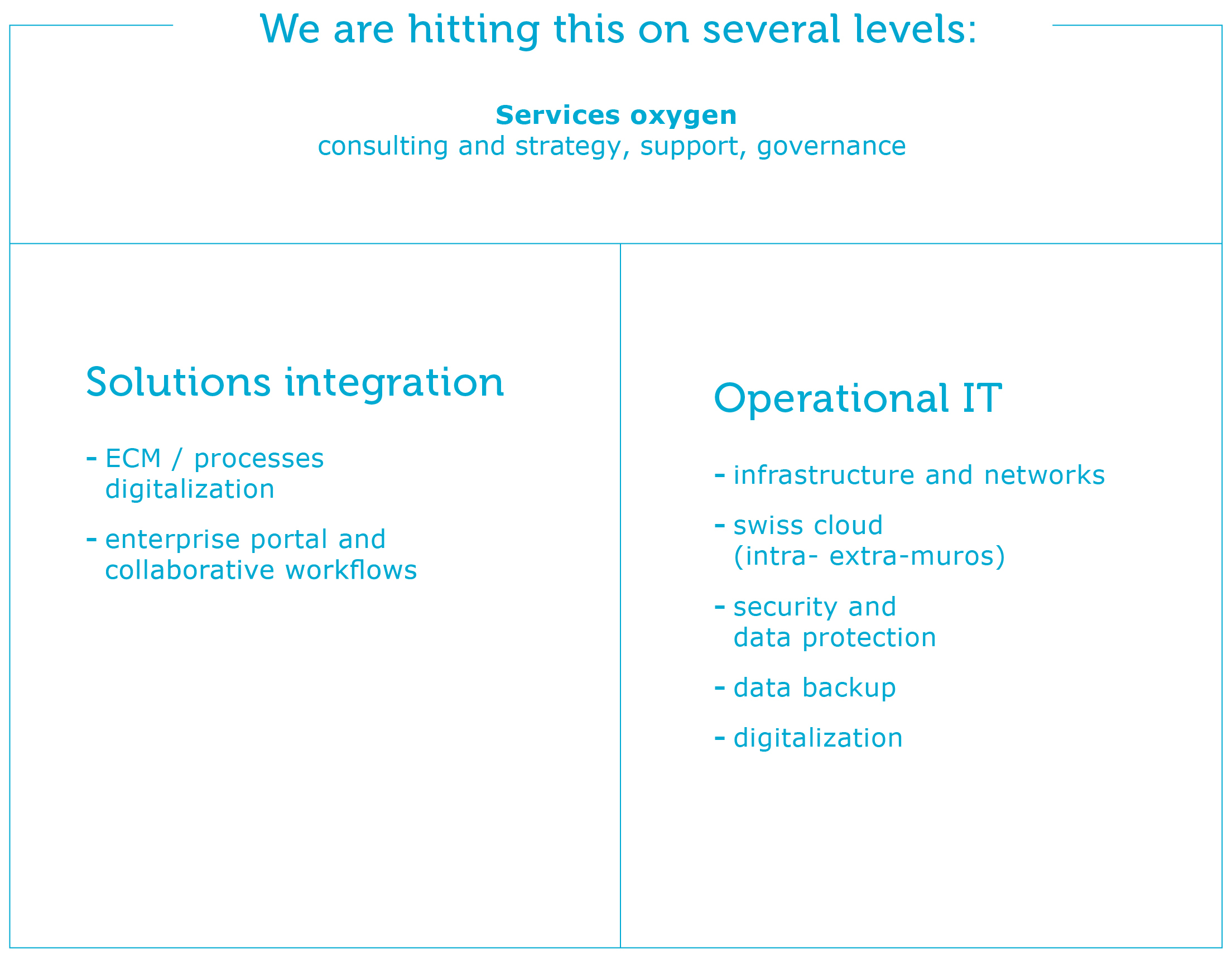 CONSULTING & STRATEGY
Define the place of departure and arrival
In the first instance, you certainly need consulting to design a real IT strategy in your organization. We start with the review of your infrastructure, management and current IT solutions' situation. Based on your business processes, we help you define your needs and conceive the required IT environment. We finally choose together the best options for the implementation and follow-up of your IT strategy.
SUPPORT
Choose the best route and onboard your employees
The technology evolution is not ready to stop yet. Consequently, IT management is not ready to stop neither. Once your new infrastructure or new solutions are implemented, you still need to support your employees, adapt, optimize and make your processes easier to get up to the most comfortable cruising speed.
GOVERNANCE
Describe your flight schedule and ensure safety on board
Information & Communications Technology (ICT) is more and more complicated to manage. Involving legal, security, technological, organizational, technical and infrastructural aspects, ICT requires leading expertise & competences, which are difficult to keep in-house. By choosing our governance service, you get rid of complexity, you optimize your costs and reduce the associated risks while ensuring a unique qualitative governance.